News
Showcase Cinemas Student-Athlete of the Month JANUARY Winner--David Hanna
We are so proud and excited to announce Kierra Giarrusso has been named Rhode Island's top High School Youth Volunteer in the 2019 Prudential Spirit of the Community Awards. Sh...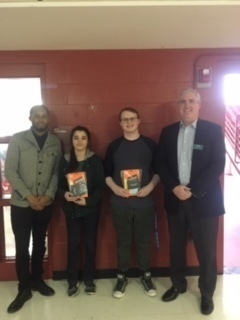 Semester 1 attendance winners. Special thank you to Bill Harig and Damani Edwards our Horace Mann partners for providing two Kindle Fires to Sam Shriner and Zach Lambert, our a...
SEE ALL NEWS
LIVE FEED
Deb O'Brien
14 days ago
Vaping , Substance use, Technology issues, School Anxiety and other pertinent topics tonight in the high school Library start time is 6:00pm.  
Brent Robitaille
15 days ago
Spring is right around the corner! When it's time to clean, please consider supporting the EWG Debate Team's community yard sale. Please click the link below for more information. https://tinyurl.com/ycmubu7h
Susan Chandler
18 days ago
Congratulations to EWG art students who won awards at Hera Gallery's Young Adult Exhibition this past Saturday night! First Place Painting: Mercedes Smith First Place Sculpture: Grace Dallas Honorable Mention Black and White Drawing: Katie Lagergren
Stacy Haines-Mayne
23 days ago
Friday is the last day for interested juniors to apply for the PrepareRI internship program! Please stop by guidance for a QR scan card linking you to the application if interested!
SEE ALL POSTS