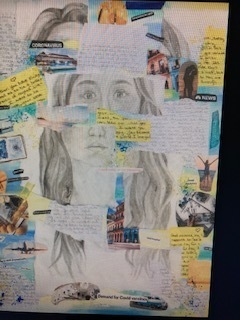 EWG Fine Arts Pathway students WIN!
Susan Chandler
Monday, March 01, 2021
EWG is very proud to announce some amazing Honors. The following students were award winners at the 2021 Young Adult Exhibition at the Hera Gallery:
Alyssa Zompa - BEST OF SHOW for "The World in my Eyes" (pictured)
Sonya Eklof, 1st Place Painting/Mixed Media for "Senbazura"
Kaitlyn Duska, 1st Place Portrait for "Reflecting"
We could not be prouder of our young artists!